High Sierra Writers Meeting
Saturday, October 12 at 10 am
at Scheels at Legends 1200 Scheels Drive, Sparks, NV 89434.
We will be discussing NaNoWriMo, what it is, how to join in, and why you should do it? Rene Averett and Jennifer Baumer will cover the background and the basics, then Matt will follow up with a discussion of the potential pitfalls and how to jump over them.
Workshops and Speakers:
We will discuss potential programs and workshops for 2020, including the opportunity for a 2-day Master Class with NY Times bestseller Cherry Adair. We will be looking for your input and opinions, so please come to the meeting. See articles below for more on both the NaNo program and Cherry Adair.
First Pages
Bring in the first page of your story or novel! It's the most important page in your manuscript, so let's talk about how to get it right. Completely anonymous. Turn in your first page to Matt Bayan at the start of the meeting. Don't put your name on the page, but please show the title and genre of the work. Print on letter paper, 1-inch margins, preferably 12 point in Times New Roman or Arial (14 pt would help Matt maintain his eyesight).
---
What is NaNoWriMo?
Sounds strange, but is it contagious?
Well, it can be if you get hooked on the idea of speed writing. NaNoWriMo is the acronym for National Novel Writing Month, which is November. Rene Averett and Jennifer Baumer are the Reno area Municipal Liaisons. Their task is to find interested writers, who are willing to take on the task of writing 50,000 words during the month of November, and encouraging them by participating in writing sessions all month long.
At the October meeting, Rene and Jennifer will be at the meeting to tell you more about NaNo, the goals, and how you can successfully win this challenge. For the curious, that's 1,667 words a day average. So, if you'd like to write a novel in a month, or at least, get a good start on a novel, then come to the next meeting to learn more and discover the magical world of community writing.
Warning: It can be addictive and change the way you attack your writing.

So, that's NANO? What do I do now?
After Rene and Jennifer's presentation on the basics of NANO and how to get started, Matt Bayan will spend some time in workshop style to discuss with our members how to deal with the pitfalls that will emerge. This will also deal with writing issues faced in a non-NANO existence.
What's writer's block – or am I just lazy?
How do I create believable characters in a month?
How do I energize my dialogue
My plot sucks.
Why am I doing this?I don't have enough time!!
---
Cherry Adair's Master Class
By Rene Averett
How would you like to learn the basics of character development, action scenes, dialog, plotting, and self-editing from a multi-New-York-Times-bestselling author of over 35 books? Author Cherry Adair can bring her excellent Plotting By Color Master Class to Reno through the High Sierra Writers if we would like her to do so. You can learn her method of plotting and pick her brain on all the elements to write your best novel.
I took this class at the Book Lovers Convention in Reno in 2018, and boy, did I learn a lot that I thought I already knew. In this two-day workshop, Cherry will give you tips for creating memorable characters and how to write from their strengths and weaknesses. She'll help you construct a scene and look at the elements of each scene using the three-act plotting method. She can also show you how to adapt it to series books. I am still working to apply everything I learned to my writing. I want to take it again. Although Cherry is considered a romance writer, she actually writes romantic suspense as well as thrillers, mysteries, and paranormal, but her class is geared to any fiction genre.At our next HSW meeting on October 12th, we will be discussing bringing this workshop here and getting opinions from our members. If you would like to see a beneficial Master Class that will give you a blueprint to plotting and writing your best novel, then join us at our meeting to learn more and/or express your opinion. The decision to schedule her will be based on your input, so plan on being at the October meeting.
About Cherry Adair
Born in Cape Town, South Africa. Cherry is the best-selling author of numerous romantic suspense, paranormal, mystery, and thriller novels. She moved to San Francisco and became an interior designer. She is an avid reader, so soon the stories building in her head led her to write. She had written 17 books before publishing her first through Harlequin in 1994 and sold all of those books to them.
Cherry's most popular series is the long-running T-FLAC novels that involve operatives working in the fictional anti-terrorist force bearing the moniker with 19 books and counting. She also has three spin-off series from T-FLAC and the Cutter Cay series, plus single novels. She has won and been nominated for numerous awards including the Golden Quill for Best Mainstream Single Title.
Popular at conventions and conferences, Cherry loves sharing her knowledge and does so with her delightfully wicked sense of humor.
From the HSW President
RENO POP CULTURE CON
Guess what? We've been invited to a big event. Our November meeting, 11/9/19, lands right in the middle of the Reno Pop Culture Con. This event is like Comic-Con, but they don't use a similar name because they'd get sued. It runs from Friday 11/8 to Sunday 11/10. This event has been very successful over the past few years in Denver, and they are expanding to Reno for the first time.
The event is held by a non-profit group that promotes literacy and the process of WRITING. The workshops and events revolve around the craft of writing. They've asked us to have our monthly meeting at the event and to participate in panels.
WE WILL HOLD OUR NOVEMBER HSW MEETING AT THE CONVENTION CENTER. WE WILL NOT BE AT SCHEELS IN NOVEMBER.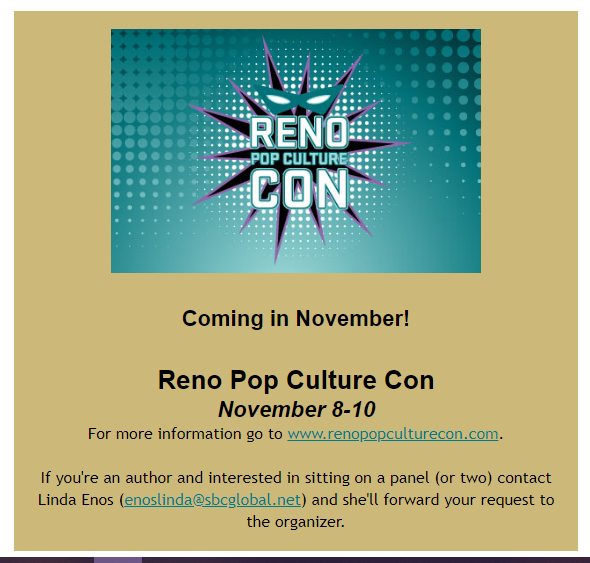 The Changing of the Wranglers
Nicole Frens has stepped down as the Critique Group Wrangler and will be replaced by Linda Enos starting immediately.
Linda has some exciting ideas for building on the great work Nicole has done over the past several years, which she'll reveal at the January meeting.
In the meantime, if you have any questions or concerns, or if you wish to join a group, feel free to contact Linda at enoslinda@sbcglobal.net.
Calendar of Upcoming Events
October 12 – HSW Meeting at Scheels @ 10 am
November 01 – NaNoWriMo Starts – Begin writing
November 8-10 – Reno Pop Culture Convention at Convention Center
November 9 – HSW Meeting at Pop Culture Convention – details to be announced. Check WEB site.
November 16 – NaNoWriMo – Write-In – location and time to be announced.
November 30 – Last writing day of NaNoWriMo
December 14 – HSW Meeting at Scheels @ 10 am
Looking Ahead – November Program Speaker
BODY LANGUAGE – HOW TO MAKE CHARACTERS MORE DYNAMIC
by Matt Bayan

We have an opportunity to book a leading expert in the interpretation of body language. "What good is that to a writer," you might ask. That's what I asked when first presented with the idea.
Then I thought about it. How does a reader get an understanding of a character's thoughts, his mood, whether she is nervous, whether he feels guilty? How would skill at body language help a detective interviewing a suspect, a wife who suspects her husband of cheating, a job interviewer?
In dialogue, think of the little tics and actions that characters do and which we want the reader to see. He looked into the distance and pulled on his left earlobe.
Body language is showing, not telling. Body language is visual. Body language allows writers to engage the reader with an image rather than a passive-verb description.
She was nervous becomes She hid her hands under the table so they wouldn't see the sweat which seemed to pour from them like a faucet.
We've scheduled Alexanne Stone, an expert at interpreting body language, for an hour at our November meeting to give a preview of what understanding body language can add to our quiver of writing arrows. We need to gauge your feedback to see if it would be worthwhile to book her for a workshop in the spring of 2020. So, please attend the November meeting to catch her presentation and Q & A. I've met with her and I think this will be very interesting.
---